Pictured L-R: Ofc Marscher, Ofc Clouse, Sgt Menice, Ofc Lavery, Chf McGowan, Ofc Woolard, Ofc Comman
For immediate release:
DOVER, MA – The Dover Police Department is proud to announce the graduation of Officer Matthew O. Lavery from the 60th Recruit Officer Class held at the Plymouth Police Academy. The graduation was held on Friday, August 21, 2015, at the historic Plymouth Memorial Building in Plymouth, Massachusetts.
Fifty-seven officers, representing police departments from 30 separate cities and towns across Eastern Mass, graduated the 6 month long academy. These Officers received over one thousand hours of classroom and practical instruction along with daily physical training. Some of the many topics included Constitutional Law, Domestic/Family Violence, Motor Vehicle Law, Narcotics, First Responder & CPR, Diversity Training, Suicide Prevention, Community Policing, Crisis Intervention, Report Writing, Court Preparation, and Ethics. Practical training included Firearms, Defensive Tactics, Arrest Procedures, Drunk Driving Detection, Patrol Procedures, and Emergency Vehicle Operations.
Officer Lavery is a Quincy native and a graduate from Curry College with a bachelor degree in Criminal Justice. He worked as an officer at the Framingham State University Police Deparnent prior to entering the full time police academy for Dover.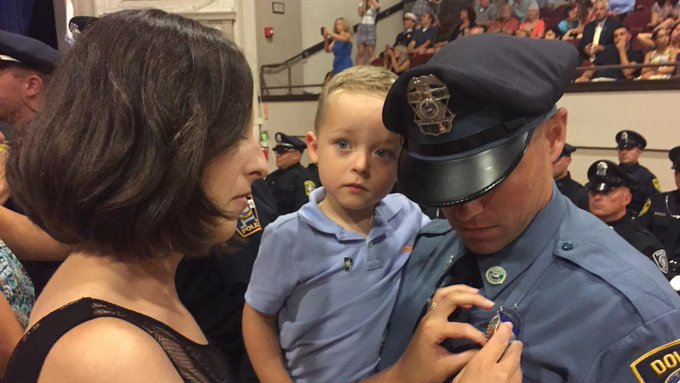 During the graduation ceremony, recruits are 'pinned' with their police badge for the first time. Each officer chooses who they want to pin the badge on them, and is typically family, close friends, or other police officers who have inspired them. Officer Lavery was pinned by his wife, Kaitlin, and his son, Cameron.
The graduation ceremony finished with Plymouth District Attorney Timothy Cruz administering the "Oath of Honor" and a performance of "God Bless America" by Massachusetts State Police Retired Sergeant Daniel M. Clark.
Officer Lavery now enters a Field Training and Evaluation Program ("FTEP") at the Dover Police Department where senior Field Training Officers ("FTOs") with help him translate his academy training into practical applications in actual situations under the procedures of our department.
Congratulations to Officer Lavery and his family, and welcome to the Dover Police Department.
###
Media inquiries may be directed to DPD Media Services. Please do not contact the Emergency Communications Center directly on this matter.